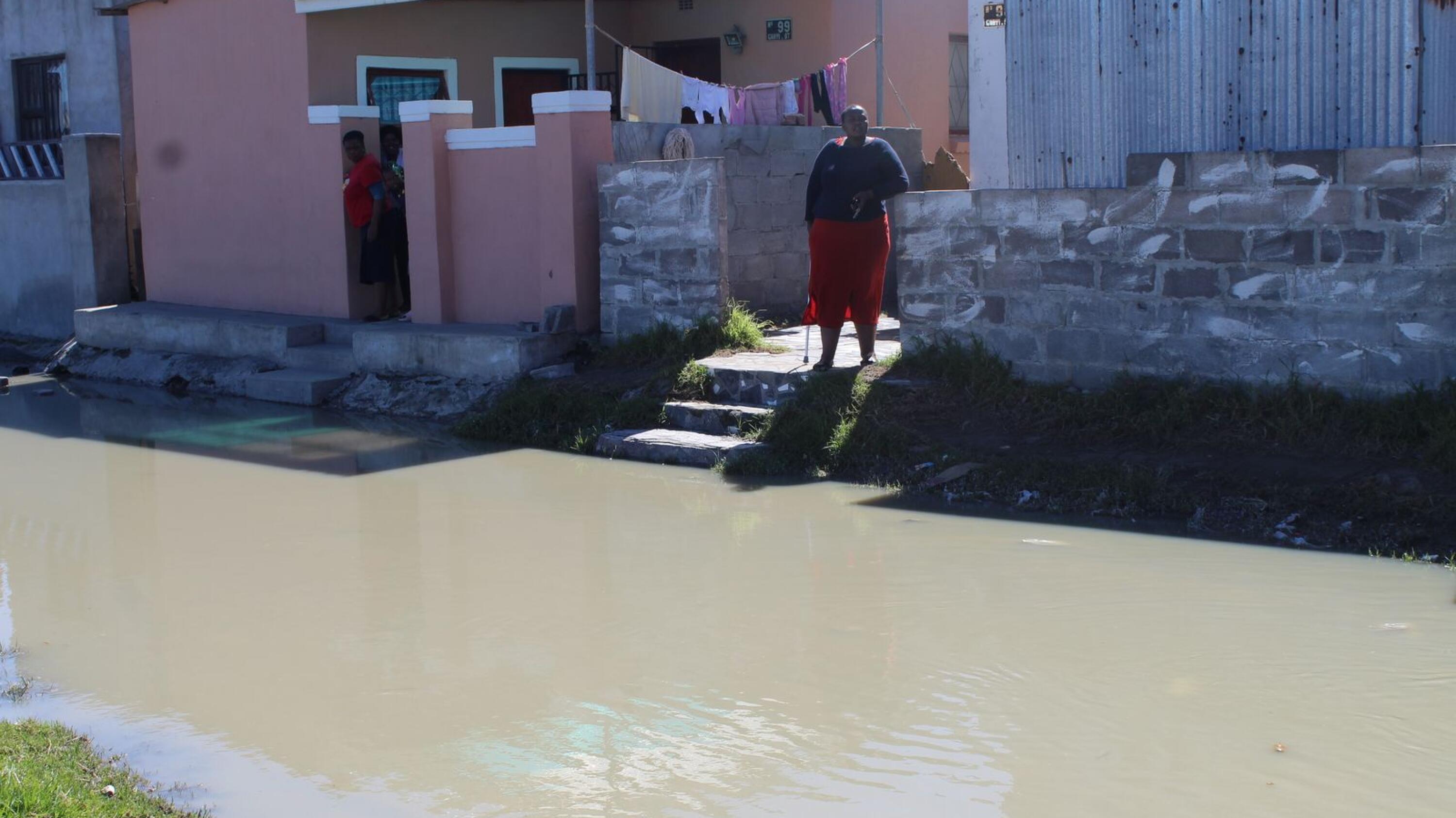 A blocked sewer in Crossroads has flooded 10 houses in Gwayi Street near Nelson Mandela High School.
And families living near the flooded sewer now have to keep their windows and doors shut, or risk being overpowered by the stench.
To ensure they're able to cross the road without stepping in the mess, they've created paths made of bricks and tyres.
Resident Nobesuthu Matoti, who sent Vukani photos of murky water flowing through the streets and covering the floors of some houses, said the situation was messy – to say the least.
All they have received in response to their complaints to the City, she said, were reference numbers.
"It is horrible to live in this area. We are captives of raw faeces and a stench that is unbearable. We have not only called the councillor but the City as well. But all we are receiving are reference numbers. This is not only bad for the community but (also) the schools around here. One day I witnessed a child who was going to school fell in here," she said.
"It's messy. People cannot go out. We have to close the doors all day long. It is even difficult to eat in this situation," said Ms Matoti.
"The streets are no-go areas for humans and cars because there's human waste everywhere. It is disgusting," she said.
Zanele Waphi, who has a young baby, is among the affected residents.
"Remember my baby is days old and she came to this situation. This is not a place for anyone to live. This problem has been happening for years. We felt no one cares for this community," she said.
"It is like this when there is no rain. You can imagine how it is when it is raining. When there is rain it goes higher," she told Vukani.
She said residents have been working together to contact the City of Cape Town but no action has been taken – and Ms Waphi has lost hope. "We have tried all we can. Some residents have even posted this on Facebook. Some have run to the council but got no help. Do you think they care? I have lost hope of getting help any time soon. You have no clue… when we have to eat… the constant stench is disgusting," she told Vukani.
Residents showed Vukani more than six reference numbers they have received from the City after reporting the problem.
When Vukani took their concerns to the City, Dr Zahid Badroodien, Mayco member for Water and Sanitation, said the blockage would be cleared soon.
He said a team had been sent to the site on Monday morning to clean and disinfect the area. "The City continuously repairs damage from vandalism and clears sewers blocked by inappropriate items that shouldn't be in the sewer pipeline.
"Overflows, however, will continue to happen, as long as misuse/vandalism occurs, and sewers continue to be blocked by items that should not be in the system such as material and fats," he warned.
The City asked anyone who has any information about vandalism to report it to the SAPS as soon as possible, so they can investigate.
How to report vandalism and log service requests
To report vandalism in progress, call:
• 107 from a landline
• 021 480 7700 from a cellphone
• the local SAPS
Report vandalism damages, sewer blockages, missing drain covers, burst pipes, leaks and water wastage using one of the following channels (Please provide the street address, and get a reference number):
• Online www.capetown.gov.za/servicerequests
• Email water@capetown.gov.za
• SMS 31373 (maximum 160 characters. Standard rates apply)
• Call 0860 103 089
• Visit a City walk-in centre (see www.capetown.gov.za/facilities to find the one closest to you)