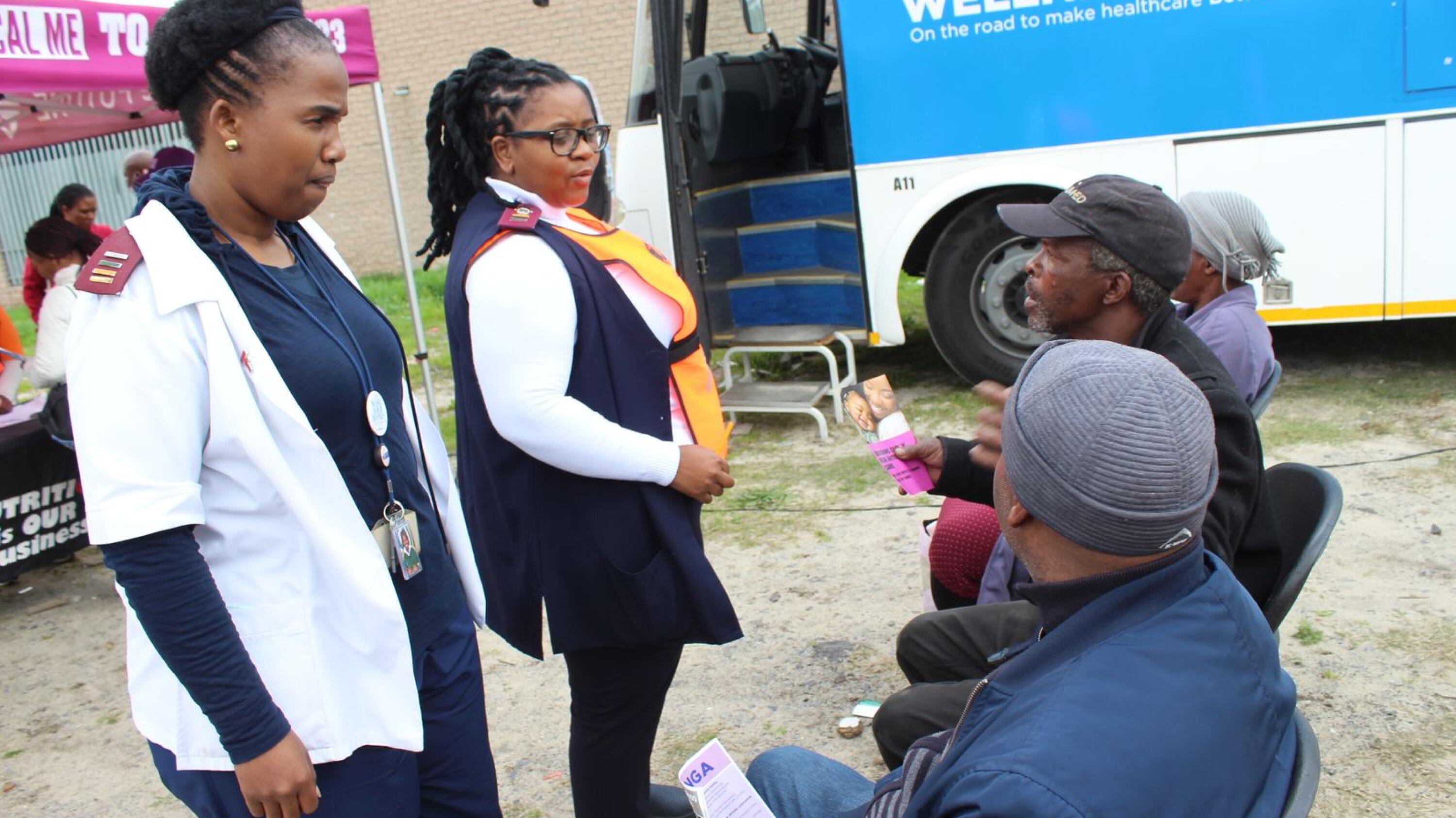 The open space behind the South African Social Security Agency (SASSA) at the corner of NY2 and NY3 in Gugulethu was lined with healthcare providers and people waiting for healthcare screenings on Monday.
The Gugulethu Community Health Centre had resorted to taking its services to people on Mandela Day, held annually across the world on July 18 which was late President Nelson Mandela's birthday.
The clinic's goal is to provide family planning, eradicate HIV/Aids, sexually transmitted diseases, diabetes and Covid-19 and bring care for people living with disabilities. According to the facility, the main mission is to assist vulnerable communities to access much needed medication.
Early on Monday, a team of health workers began their daily tasks at dawn, and were all ready to render the services to people of the area. The staff on the team consisted of all the experts in different health areas like family planning and HIV/Aids counsellors.
Acting operational manager at the facility, Sister Nonzame Tiki said they arrived at the destination that they deemed to be in need of medical assistance fully prepared. She said they made a bus and tents available to offer their life-saving services.
"We saw the great need for speciality care like antenatal tests, prognostic tests, HIV/Aids, Covid-19 and awareness for psycho-social disability, blood pressure and many others. We wanted to do it a little bit bigger to serve a bigger population," said Sister Tiki.
She said she was excited that the community of Gugulethu and many organisations were part of the day. She hoped that the relationship could become stronger. "We are so proud of how this community has come together and has really made it a wonderful place to host this day. We are also excited that we have a nurse that shares a birthday with the late Tata Mandela, Sister Thulisani Stokwe who she has given all today."
The communities were educated about family planning and sex education, HIV/AIDS testing, counselling, TB as well as referrals for antiretroviral drugs.
Health promoter at the facility Ntembeko Napakade added that most of their beneficiaries are poverty stricken and find healthcare unaffordable.
He said it was a good thing to reach them on Mandela Day. "This has been a productive day for all of us including our community. Remember other people are still scared to go to the clinic after Covid. This has helped a lot of them and those who were just passing by. It is our task as a facility to see to it that our people are healthier," he said.
Meanwhile, the Movement for Change and Social Justice, an alliance of organisations aiming to improve the health and lives of people in Gugulethu, commended the work of the facility.
However, it said the government needed to help the facility by building a hospital for Gugulethu, Crossroads, Philippi and the surrounding informal settlements. Spokesman Mike Hamnca said they are in talks with the government on the issue. "By building a hospital, that will take away the burden for this facility. This facility serves huge areas and that is not good for our health workers. We will fight for them to get a hospital that will really take off a huge burden on them," he said