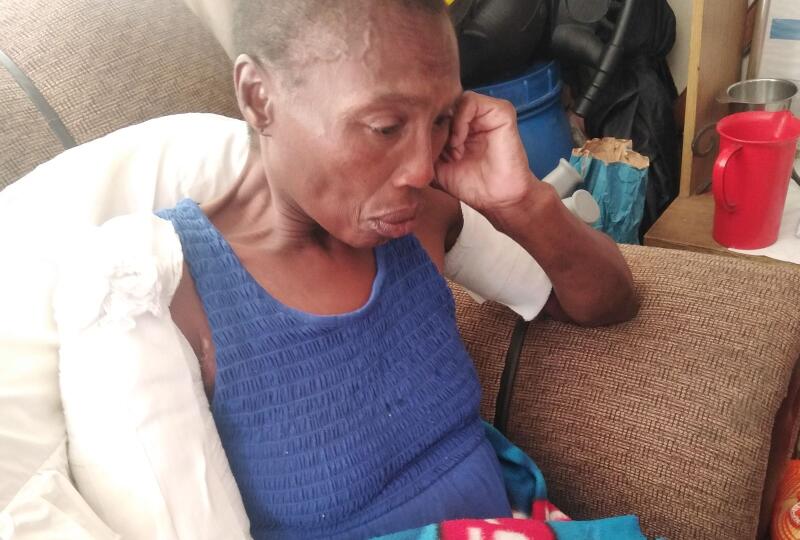 Two young children died when their home at Taiwan informal settlement in Site C went up in flames.
Swaphiwe, 9, and Onikayo, 4, Ntshintshi perished in the blaze while their physically disabled mother, Nosisa Ntshintshi, suffered minor burn wounds to her arms on Saturday January 9.
When Vukani visited the family in the afternoon, sorrow and sadnesses were deeply etched into the faces of the family members as they detailed the horrific incident.
A visibly heartbroken Ms Ntshinsthi said the fire started in one of the rooms at about 1am. She had still been awake, looking after her neighbour' baby.
But, she said, she had had no idea that her house had caught fire until one of her children, Zintle, shouted that the house was burning.
Ms Ntshinsthi, who uses walking sticks to help her get around, said, with no time to go back for her walking aids, she crawled, and pushed the baby in an attempt to save their lives.
And when she got outside, she screamed for help while looking for her other two children. Devastated, she realised her other children had not managed to escape the house.
"I thought when my child informed me about the fire they had already ran outside. I did not know that others were sleeping.
"But even if I knew, there was nothing that I could have done to save their young lives as I'm paralysed myself and battled to get out. I don't how I will carry on with my life knowing that two of my children died in the most horrific way.
"I wish I had the powers to reverse what had happened," a distraught Ms Ntshintshi told Vukani.
"The year starts with me losing my children – I don't know if there is anything positive this year is going to bring to my family.
"I'm not working and I'm dependent on my children social grant and disability grant," she said.
The 42-year-old mother said she does not know how she will be able to bury her children and how she is going to rebuild her life.
She said they had been informed that before they could start with the burial preparations they needed to raise R3 000 for the children's DNA tests.
But sadly, she said she is unemployed and unable to raise such funds and she does not even have a funeral policy.
Community leader, Sibusiso Mdlankomo, said what had happened to the family was devastating and that he would try his best to get help for the family.
Ms Ntshintshi's elder sister, Nobantu Ncapayi, said had not been able to save any of her belongings – not even her borrowed walking aids.
City of Cape Town Fire and Rescue Service spokesman Jermaine Carelse said they received an emergency call at 1.10am on Saturday January 9.
The Landsdowne Road Fire Station crew responded to the call and were assisted by crews from Mfuleni and Epping fire stations.
Mr Carelse said the fire was contained to a single dwelling.
"One adult female sustained burn wounds to her right arm and was treated by Metro personnel. At approximately 1.59am the bodies of the two female minors aged 9 and 4 were discovered amongst the debris," he said.