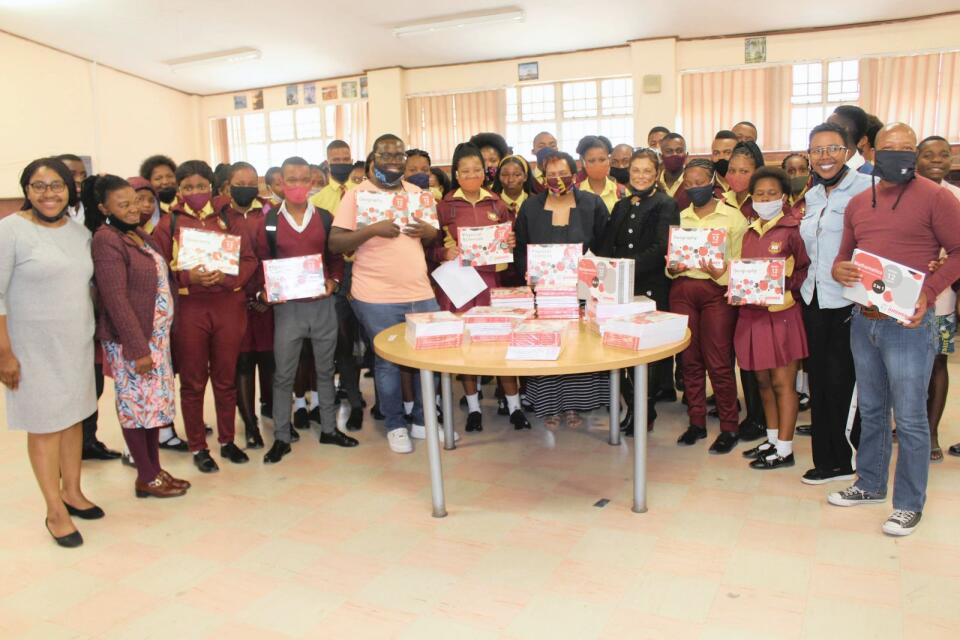 Pupils and teachers at Joe Slovo Engineering High School and Luhlaza High School had reason to smile on Monday when AmaQhawe ngeMfundo, the University of the Western Cape (UWC) and the South African Young Academy of Sciences donated study guides to the school's Grade 11 and 12 pupils.
One of the ideals of the AmaQhawe ngemfundo, a non-governmental organisation, is to recruit and encourage young black pupils to become scientists.
The NGO equips township pupils with science, technology, engineering and mathematics skills through on-site training.
On Monday October 12, the NGO with its partners, UWC's Community Engagement Unit and the South African Young Academy of Sciences, donated more than 200 Maths and Science, and Life Science study guides to the two Khayelitsha high schools. The books were donated after Luhlaza made an appeal for donations.
Speaking at the handover at Joe Slovo, the founder of AmaQhawe ngeMfundo, Professor Fanelwa Ngece-Ajayi, said her organisation and its partners wanted township children to have access to better education and aim to dispel the notion that pursuing tertiary education was out of their reach.
She also thanked the university and the academy for their support to township schools. "Ours is to encourage township children to be scientists. We brought these books to show that we care and love children. These books will help them all to be good students and pursue their dreams," she said.
She vowed to keep tabs on the progress of the schools and give more support to the schools because education is the key to full liberation from poverty to self-sustaining individuals.
The university's Professor Priscilla Daniels encouraged the pupils to work hard so to be successful. "You stand in a space of creating your own future. Put in effort and have self-improvement. If you take these study guides seriously, by the time you write exams you will be ready. I want to challenge you to take an old book and write down an inspirational verse or goals. See how it's going to pan out. It is much better to make small changes," she said.
Dr Moses Basitere from the South African Young Academy of Sciences, advised the pupils to dream and work hard for their dreams. He warned, however, that having dreams does not mean there won't be obstacles.
"But you need to protect the dream. Dream and work hard for it," he told them.
He said he was happy that his organisation is part of the important donation and he would be very proud to see some of them becoming scientists.
Grade 12 head at Joe Slovo, Sonia Charles, said the donation would boost the pupils' exam readiness.
Ms Charles said the study guides came at the right time – when pupils were struggling to study because of the pandemic.
"We thank the donors for the enlightening words. This is a group that is facing the pandemic. They will be remembered as that group of the pandemic. But with these donations, we are reminded of the old saying that it takes a village to raise a child. "