If Police Minister Bheki Cele's had his way this Christmas, all liquor trading stores and so-called super spreader events which attract large crowds, would be closed down. And during a recent visit to crime hot spots, he condemned crimes against women and children and appealed to people to be wary of coronavirus.
During his visit to the Gugulethu and Philippi malls as part of Operation Tight Grip, Mr Cele stressed that consumption of liquor was a "big problem", particularly during this time of the year.
"People think that I do not like alcohol. But it is not like that. Alcohol generates a lot of crimes. Lot of rapes, murder are caused by alcohol. There is a lot of criminality in it," he said.
He reiterated that police would do their utmost to clamp down on crime and said police were deal with the increasing practice of protection fees being demanded from business people.
"The anti-gang unit is working on that. There is progress, but we can't tell you. But be assured that it is on our table," he told Vukani.
While engaging with community members, he regularly encouraged them to adhere to Covid-19 safety regulations, particularly as the country is experiencing the anticipated second wave of infections. And people without a face masks were reprimanded.
"Our worry is outside the malls. Inside the malls it looks like there is compliance. But as you go outside there is non-compliance. This second wave is very serious," he said.
He added that there would be no holiday for policemen and women this year. "We want to make sure that there is availability and visibility in hot spots of crimes. Until January 5, we won't rest," said mr Cele.
In both malls, he had a crowd following him, with some people taking selfies with him.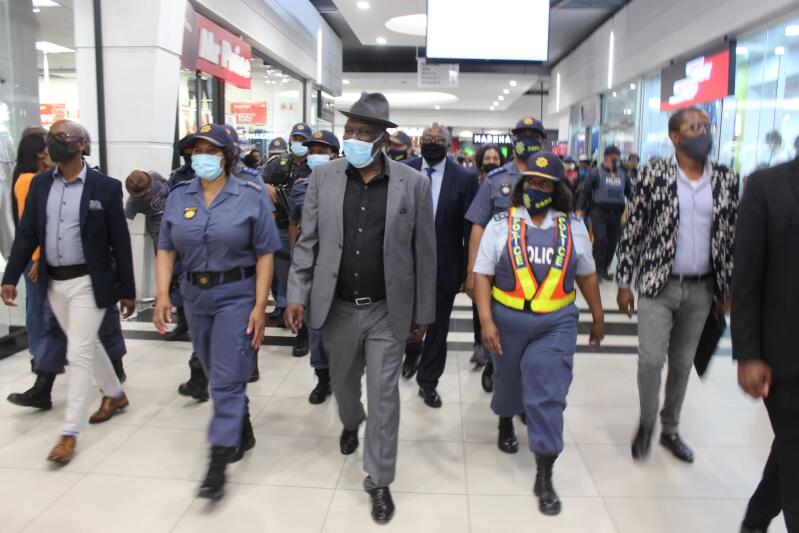 Gugulethu resident Linda Moss praised Ndosi – as the minister is affectionately – known for taking time to visit the areas.
"I understand that next year is a local election but I do not think he is here for that. He is one minister that has always been on hand. He is reachable and loves his people. I so wish we can have more of Ndosis. We need them after such a bad year. They need to be with us all the time to give us hope," he said.
In Philippi, Thandabantu Ngxola suggested Mr Cele should be the next president. "He deserves that position. In every portfolio he has held, he has been brilliant. We are honoured to have him in Philippi. We all know how crime is here. Ndosi should also station in Cape Town for a while and directly deal with criminals. Maybe we will win the fight against these crimes," he said.