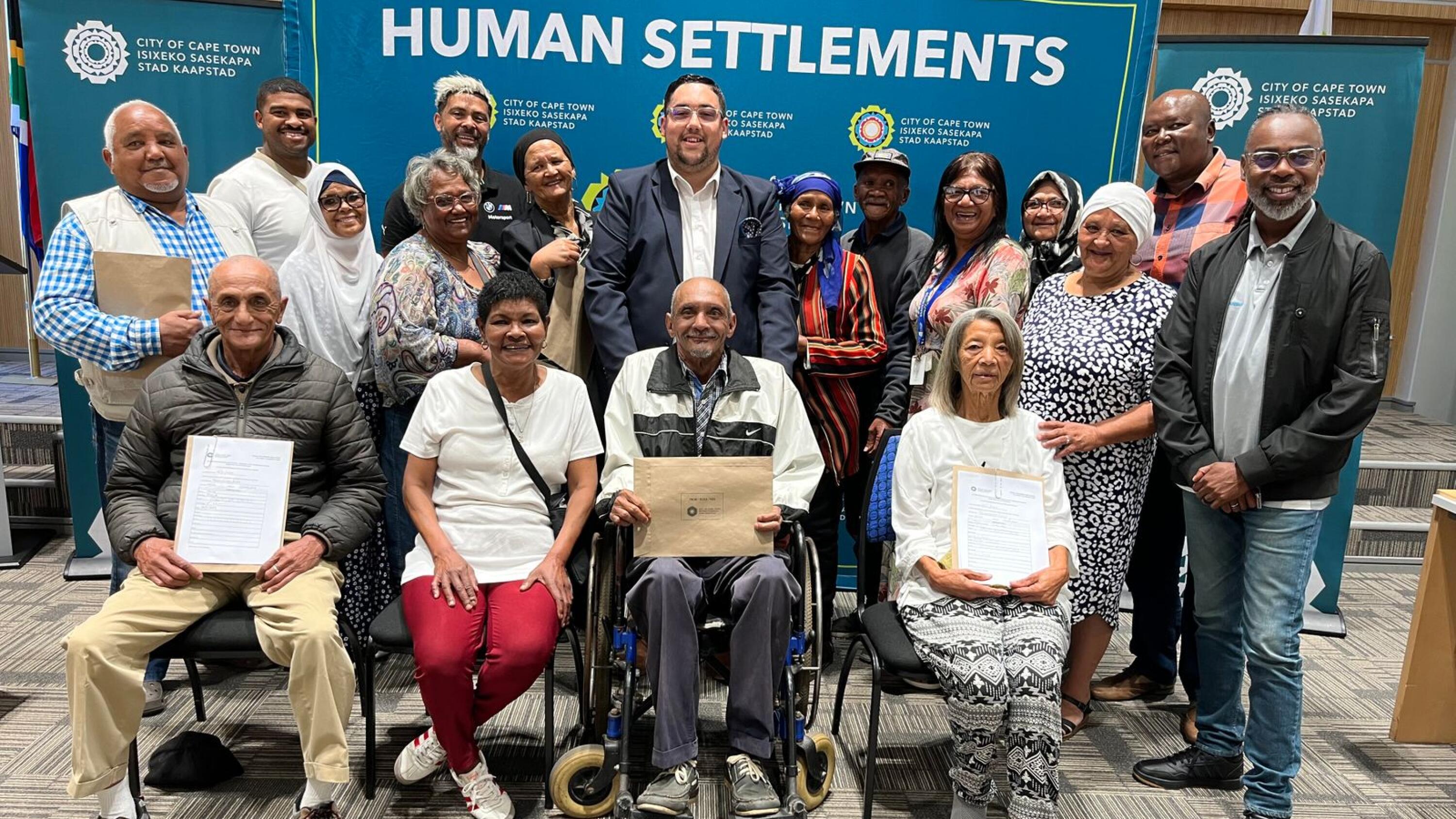 Lentegeur residents who had been tenants for more than four decades finally received their title deeds from the City of Cape Town last Wednesday, November 8.
Mayoral committee member for human settlements, Carl Pophaim handed over the title deeds to 12 families at the Lentegeur Sub-council office.
Many grandparents, parents and spouses did not live to see ownership of their homes.
Randall Baumeister and his brother Marco received the title deed which bears their parents' names – mother Winifred, who died in 2011, and their father Gert, who died in 2019.
It was only when the Baumeister sons wanted to wind up their parents' estate that they realised that the house was not on their names.
Randall, the older son, who had moved to Table View, said they had been waiting about eight years to have this concluded.
"I'm not sure who is to blame for this but I think it is ignorance and that people should be educated about processes and procedures to be able to speed it up," he said.
Younger brother Marco will be living in the house, where they first crawled about 45 years ago.
He would like to start with renovations to extend their living room to host family gatherings.
Baumeister senior said their father could never think of improving the house because his main focus was maintenance.
He said the handover of the title deed gave them closure and peace.
"So, we can live as a family with all of the tough questions out of the way and make provision for the next generation," he said.
Pensioner Peter Douglie Swartz, 76, said his wife Debra Charlotte did not live to see the title deed to the home where they raised their two sons.
He recalled working as a taxi driver to cover the cost of the house and putting food on the table.
Mr Swartz said he did not think beyond having the title deed in his hand.
"I never thought so far. I had to be sure that I had it first. It is not yours until it is transferred and it is something you can gift your children," he said.
Ebrahim Fredericks, 73, was able to receive their title deed on the 13th anniversary of his wife's death – November 8.
"It is a bitter-sweet moment for me because we worked together for this house," he said.
Mr Pophaim said title deeds were due to them.
He personalised his message to the recipients, sharing that he had accompanied his grandmother as a boy, when she collected their family's home title deed in 2012/13.
"Die is nie 'n present wat die stad vir jou gee nie. Die is nie 'n guns wat die stad vir u doen nie. It is your right. You are entitled to this. You deserve this and truth be told it should have been done many, many years ago," he said.
The hand over coincided with the human settlement directorate launching its #FestiveDeedsChallenge to have 1 000 new homeowners in Cape Town, whether it is through title deeds or key handovers by the end of December.
"You are now a homeowner. Owner of an asset. Ek pasele hier," he said.
Mr Pophaim also implored the new homeowners to have insurance and to have their wills in place to determine who inherits the house.
More than R21 million has been allocated to boost this initiative.
Events and door-to-door visits, as well as tracking and tracing efforts will be expanded over the next two months and beyond in areas such as Mitchell's Plain, Nomzamo, Hout Bay, Ocean View, Atlantis, Hanover Park, Nyanga, Bonteheuwel, Heideveld, Gugulethu, Bishop Lavis, Simon's Town, Durbanville and Khayelitsha.
Beneficiaries who have never received a deed, are encouraged to visit their customer service centre, on the second floor of the civic centre, at 12 Hertzog Boulevard on the Foreshore or call 021 400 2008.