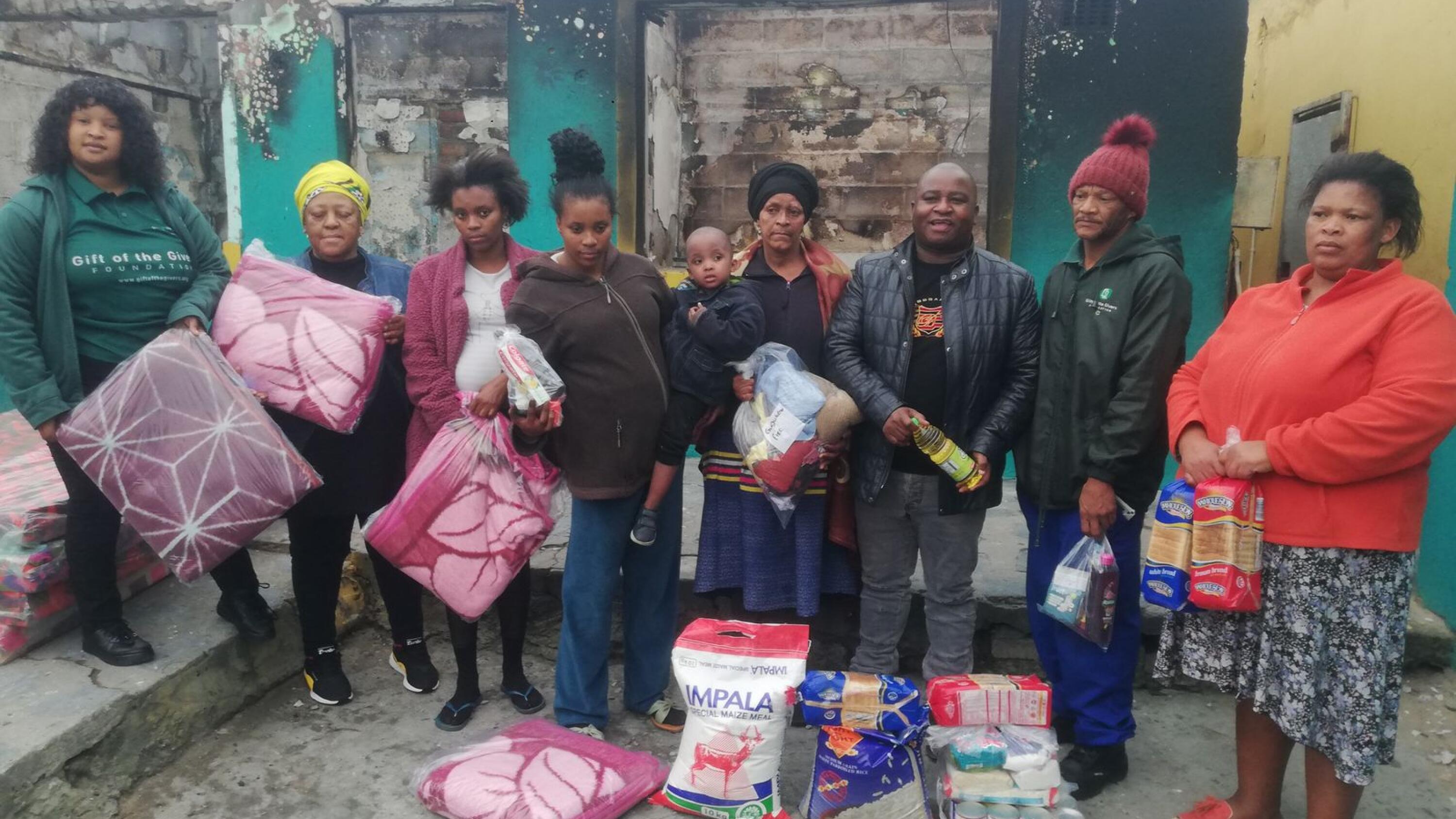 A grieving Gugulethu family received some sort of relief when Gift of the Givers came bearing gifts after a disastrous weekend.
On Saturday the family buried their son, Rooi Jeremy Mfana, who was shot and killed by gunmen who ambushed him at his NY 132 home a fortnight ago.
After his funeral, the family observed a cleansing ceremony but were rudely awoken up by a fire that ravage the four-roomed house, leaving one person dead.
Mother Mildred Mfana said she smelled smoke and woke up at about 11pm and saw the house on fire.
"I screamed and my children came out and tried to put the fire down. I kicked the window in my bedroom and jumped out. The last I remember is when neighbours tried to help me breathe as I was suffocating from the smoke," she said.
Firefighters extinguished the blaze but unfortunately another person, who the family identified as female, who shared the room with Ms Mfana at the time, had burnt beyond identification.
Thobeka Mfana said they were horrified when they realised that the woman had not escaped during rescue.
"We don't know how the fire started but we know our mother had slept with her in the same room and by the time we were trying to put down flames she was asleep," said Thobeka.
The news of the incident spread through Gugulethu. Deputy Minister of Agriculture, Mcebisi Skwatsha called the Gift of the Givers to lend a hand.
"I know the family because I grew up in the same area and I immediately contacted Gift of the Givers to provide help. I know there is a lot to be done to help this family rebuild their lives," Mr Skwatsha said.
He said he will talk to City Of Cape Town officials and other stakeholders to see what can be done to help the family.
The house needs roofing, windows and painting. Community leader Phumla Siko said they would set up a drop-in-box for the family.
"They have lost a life, lost every possession and we would like the community and business organisations to help," she said.
Pamela Kaptein from Gift of the Givers said they were happy to help the Mfana family.
"We are always involved in helping with disasters, small or big, we are delighted to be making a difference," she said.
To help the family call Ms Phumla Siko on 068 367 4658.