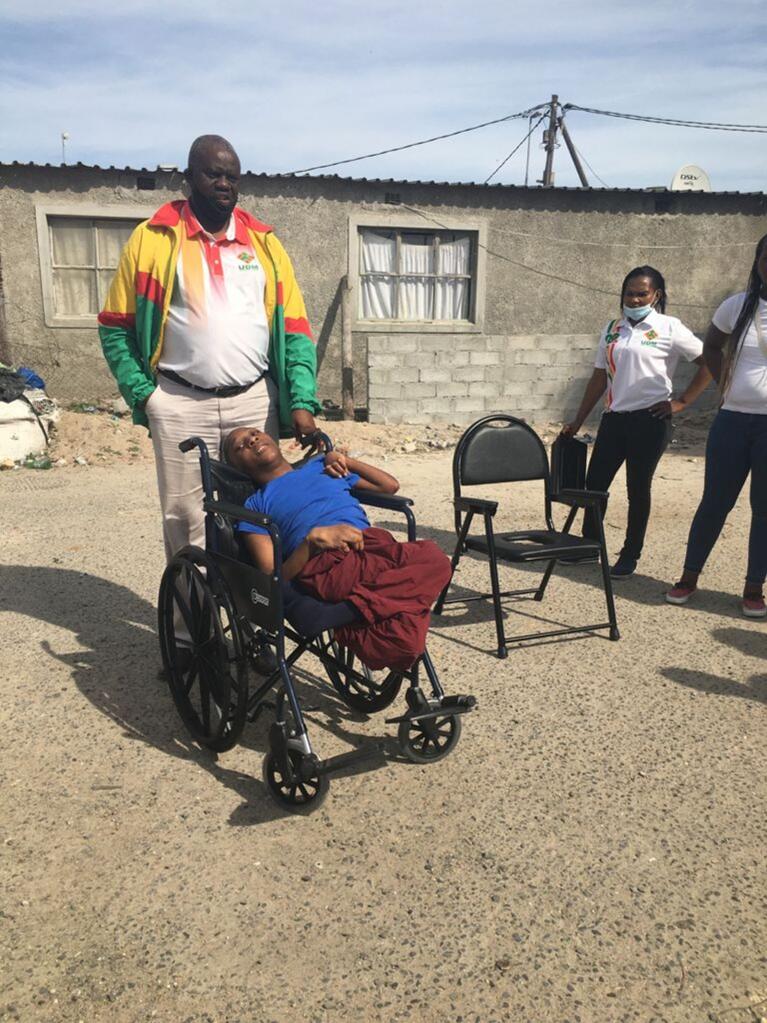 A young disabled man will now be able to move around more freely thanks to a donation from a local councillor.
Siyolise James, 16, from Emsindweni Informal Settlements in Makhaza, who is also unable to talk, received a wheelchair from United Democratic Movement (UDM) PR councillor Mzwandile Hlangisa.
His unemployed mother Fezeka James said Siyolise was born disabled and that he had outgrown his wheelchair which is currently in the Easten Cape.
She said for years she had been desperate for a wheelchair to help get her son around, and she was grateful to Mr Hlangisa for the donation.
Her next goal is to get him into an appropriate school so that she can go out to find work to support her family.
She said the only source of income for her, Siyolise and her daughter, was a disability grant, which wasn't enough to cover all their needs.
She explained that her son had to wear diapers which added significantly to their living costs.
She told Vukani her attempts to get Siyolise into school had been unsuccessful and that he was currently on a waiting list to be admitted.
"My only wish is to get my son to school so that I can look provide for my family. Like I cant go anywhere because I'm the only one who is looking after my child.
"I have a 12-year-old daughter and she lives with my mother in the Eastern Cape because I would not be able to look after her here alone.
"I just need help – any kind of help would do," she said.
Mr Hlangisa said when he and his colleagues visited the area three weeks ago, he had met Ms James and her son.
Immediately he inquired about her son's condition and wanted to understand their living conditions.
He learnt that the child had been living in Cape Town with the mother for three years without having a wheelchair. He was shocked to discover that the child was not attending school and had applied at various schools without any success.
He informed the parents that the least that he could do was to try to get the child a wheelchair in the meantime.
He returned last Saturday to fulfil his promises and to assured the mother that he was not bluffing when he made that promise.
"I'm not doing this because I want votes but because I have been elected to serve them and it is my duty to do so.
"I know this might be a drop in the ocean but at least I know in my heart I have done something.
"I urge other councillors to look after people living with disability so that they do not feel that they are neglected and not taken care of."