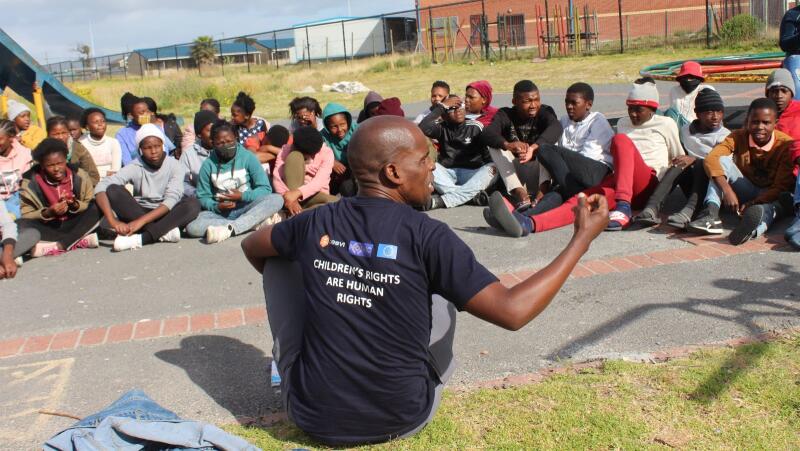 It is Tuesday afternoon. It is a bit chilly in Cape Town after a rainy day.
There is a long queue of children of different ages in a Sinqolamthi Park in crime-ridden Phillipi.
This group of young people start by making a circle, laughing together before their mentor engages them. Most of them are from the squatter areas of Siyahlala, Browns Farm, Siyanyanzela, Mxenge, Ramaphosa among others.
There are a number of reasons they are here. Some cited carelessness at their homes while some think it is a better place that helps them with many issues including home work and career guidance.
Where are they? They're attending an after-school programme called Safe Teen Life Journey which was recently launched by the Answered Prayers Foundation.
"There is too much crime in our areas, says founder Reverend Anita Pamla of Trinity Church.
"These children need our utmost care and love. Most have nothing to do at home after school.
The pandemic has also contributed because there are no activities like sport. There is less time for their parents to look after them and their needs hence I decided to have them under my wing."
She said the high level of unemployment is a problem in the townships especially in the squatter areas. It has also contributed to parents not having much time for their children and escalating crime.
"This is a temporary safe haven for them. Here we try to do away with all the pains and anger that defines chronic neglect.
"We work with them and educate them in areas like peer pressure, menstruation management, mental health during Covid-19, crime prevention, teenage pregnancy, teen life and social media and others.
We invite different organisations to also talk to them.
"The ultimate aim is to heal those in pain, educate them on different life aspects, develop and take them away from the streets and crime," she said.
Currently 70 boys and girls are part of the programme and Ms Pamla has urged parents to also get involved.
"That will make things easier for all of us. They will have to see how their children behave, what they want, their dreams and many other things. We want them here to be teachers too. Yes we have organisations that help us like Cesvi Foundation, Lugongolo Foundation, Nyanga CPF, Police and Social Development, but to have parents would be a greater thing," she says.
On Tuesday the children were visited by Cesvi Foundation's Thembani Dyule who talked to them about career choices and emphasised the need for education and organisations which took an interest in the well-being of young people.
"We need organisations like that especially grooming youngsters in our areas.
Children need to know that they are cared for and loved and they are the future.
As much as they grow in challenges like crime, they need to know that they are the future. We do not need them to fall in the cycle of what we are seeing ourselves in.
We are faced with crime, drugs, rapes, gender based violence and many others societal ills. We need such organisations so that children do not fall in that cycle," he said.
He also urged parents to be part of their children's lives and engage them regarding a lot of things.