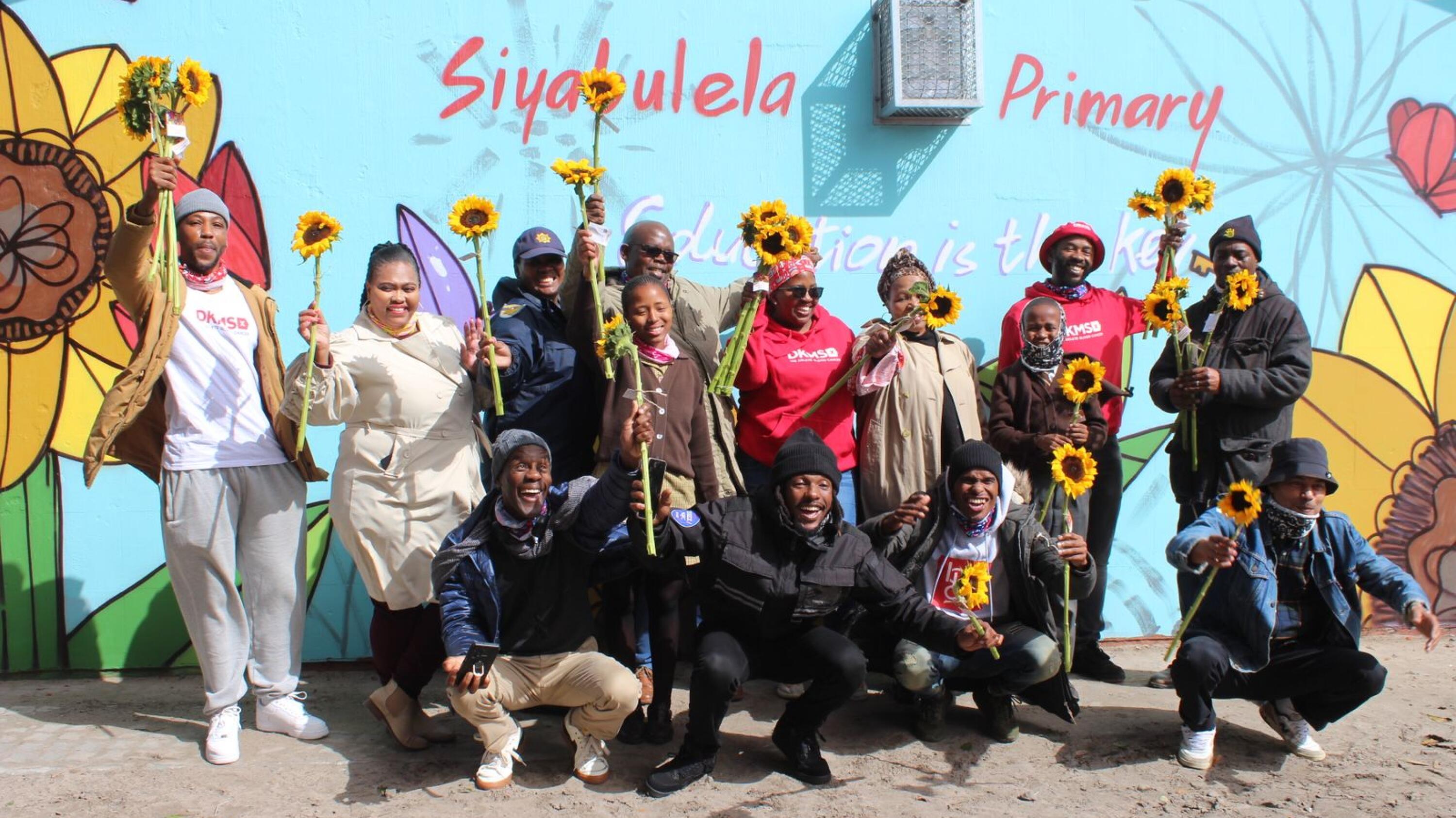 The Deutsche Knochenmarkspenderdatei (DKMS), an international non-profit organisation, is encouraging black South Africans to become blood stem cell donors.
It said there is a serious need for more bone marrow stem cell transplant donors in South Africa and the biggest need is among black South Africans.
The organisation is on a campaign to encourage more people to register to donate stem cells.
The organisation, whose mission is to provide a matching donor for every blood cancer patient, was on Friday September 15 at Siyabulela Primary School in Langa on DKMS Sunflower Day to bring awareness and unveil a sunflower mural.
According to the organisers, the awareness campaign was aimed to bolster donor numbers significantly to increase the probability of a patient in need finding a match for transplant.
Speaking before the unveiling, DKMS' donor recruitment manager Xolani Hlongwane appealed to people to register as blood stem cell donors.
He said every 72 minutes, someone is diagnosed with blood cancer in South Africa and often a stem cell transplant is their only hope for survival.
"It is a cause for concern to find stem cell donors. I think we need to find a way to communicate with the public, with young people and the community as a whole to bring awareness. People need to know today it is me, next day is you, the next day it is your husband, your wife, your mother, your child. The children born today in two months are diagnosed with the disorder. There is nothing to do with what their parents did. It all got to do with the genetic formation of blood cells in the human body. We need to start to push that language and make sure that people understand what it is to have a blood disorder and what forms of treatment there are. We are trying to make the patient's journey easier. Every 72 minutes in South Africa somebody is diagnosed with blood cancer or a blood disorder. It is a shocking statistic. It is going to get worse. It is not going to change," he said.
Mr Hlongwane said if people are not aware about the disorder, they will be unable to contribute and provide support.
He urged people to take awareness to the schools, homes and community.
"The parents need to know, the aunts, the guardians and everybody at home need to know what it is that you look out for in a young kid to identify if the kid is suffering from a blood cancer or blood disorder. I think it is an easier discussion. Blood cancer causes an unstable environment for everybody."
He said they want to educate and create awareness among people that the biggest challenge is patients going through to hospital and not finding the matching stem cells for transplants and necessary treatment.
Mr Hlongwane said his organisation aims to give all patients diagnosed with leukaemia and other life-threatening blood disorders a chance of life, irrespective of their race and financial circumstances. The patients suffer from life-threatening illnesses such as leukaemia, lymphoma, aplastic anaemia and immune deficiency disorders that can claim their lives within the space of a few weeks or months.
School principal Nomsa Shosha was excited that her school was part of the campaign.
"I am delighted that the school is now involved with this campaign. This is something deeper than I thought. It is true that we need to educate ourselves, kids and the community at large. We are very privileged to have this. We hope that one day we will say, we were there when the whole thing started. We hope it truly happens that those who are diagnosed find their match," she said.
Those who were given a platform to talk were all in agreement that the issue was not well known.
Sergeant Nonkosi Mapukata of the Langa police took to the podium in an emotional state, sharing that her only daughter had died of lack of knowledge. She said her daughter had a nosebleed and she was not aware what she had until she passed on. She said she is now well aware of blood donation.
Visit https://www.dkms-africa.org/ for more information on how to become a donor.