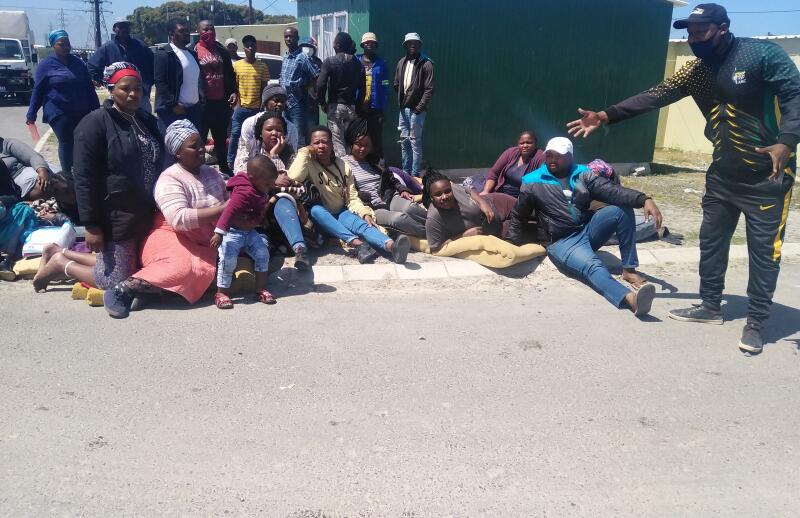 More than 50 Mfuleni backyarders who had been living in a community hall for three months are calling for the City to allow them to stay at houses nearby Bosasa after a group of residents from Site B in Khayelitsha were allocated houses to stay in last week.
These units were built to temporarily accommodate residents who had been moved to make a way for housing developments in their communities.
Three months ago the backyarders illegally occupied the temporary housing units but were moved by law enforcement three days later. Some were unable to move back to where they had been living as their landlords had already taken in new tenants.
While some were assisted by their relatives, those who had nowhere to go were accommodated in a local hall, which was meant to be a temporary solution.
Community leader, Lamla China Makala, said when the temporary structures were being erected they had an agreement that residents from their community would be allocated some houses, with most of them coming from Khayelitsha.
Mr Makala said the people that were meant to be moving into these houses from Khayelitsha were victims of the BM section fire which swept through the area in January 2013, leaving scores of residents homeless. The temporary houses were built to accommodate these residents while they were still waiting for the City to move them to service sites. Some temporary structures were also built opposite Mew Way hall to accommodate the same residents while others were moved into Bosasa. Some who were moved into the temporary accommodation, however, were from TR section, he said.
He said they do not want the City to allocate these houses to the entire community of Mfuleni but only to those with the greatest need.
"We have had several meetings with City officials but nothing came of it. You can't have more than 50 people living in a community hall that is not conducive and that is a health hazard. Now the City is bringing people that are not supposed to be receiving these temporary houses and by doing that they are creating a fight amongst these people.
"We want these people to be allocated some of these temporary houses.
"As leaders we have been forced to fork out money from our own pockets to buy food for them and ask donation from local business to assist.
Some parents have small children while other residents have their own sickness and need a better place to stay.
"Others can't go back to their places because they have their jobs because of this pandemic and wont be able to rent," he said.
The City's mayoral committee member for human settlements, Malusi Booi, said the people from Khayelitsha who were being accommodated are, in fact, the people to whom the temporary houses had been allocated and that the backyarders needed to find alternative places to stay. Resident Nokuphumal Yakuthi said it was a horrible experience to live in a community hall with more than 50 other people.
"There is no privacy. We have different beliefs and we are congested. It is also way easy to infect one another with airborne diseases," she said.