Tarzan Mbita
In the Bible it is said that King David was a man after God's heart. In the stage drama called iKrele leChiza, Luphawu is a man after his father's soul.
The Bible reference is not misplaced here as the work is interspersed with quotes from it, and set in deep rural Xhosa language itself. Hence …The Sermon in the title.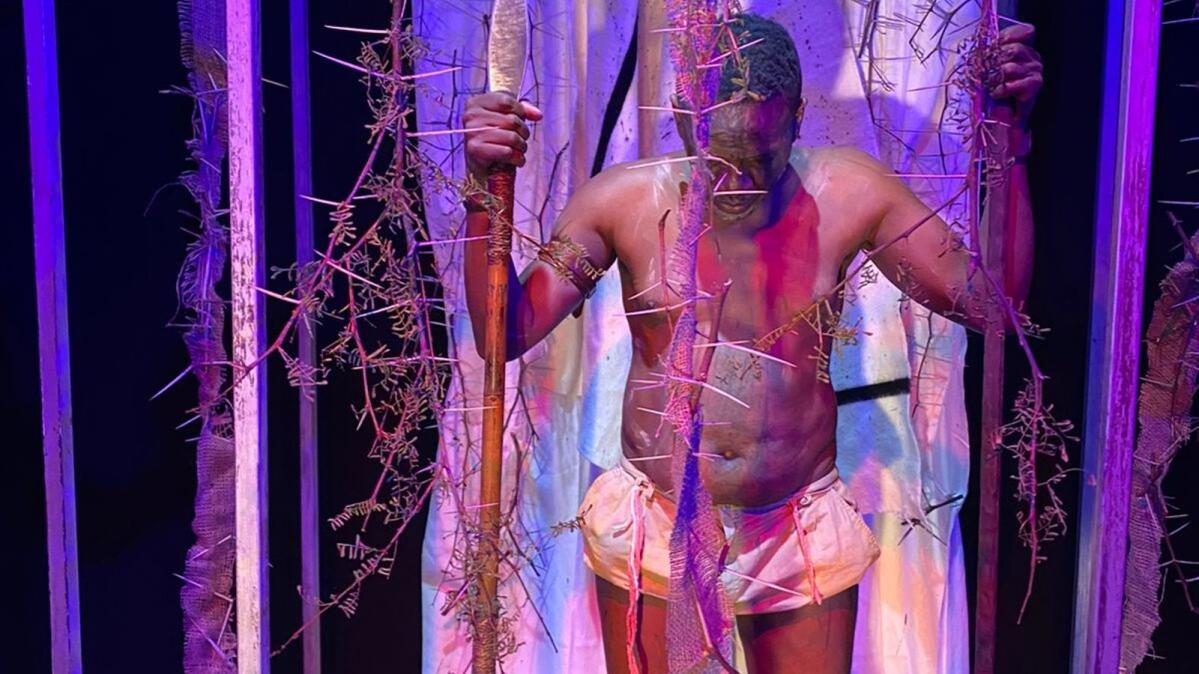 The play, a collaborative work between playwright-cum-director Mandla Mbothwe and cast members, was staged at the Magnet Theatre in Obsevatory and had its short run last week. It is a sterling piece of work, judging by the spirited offering by the young cast.
The cast is youthful, energetic and displays unlimited vigour as they go through their well-choreographed dance moves and singing. Impeccable is how one should describe the whole offering.
Mbothwe has become a household name in theatre circles, having produced such works as Ingcwaba le ndoda lise Caleni kwe ndlela, Inxeba Lomphilisi, Isivuno Smaphupha and G7: Okwe Bokhwe.
It would seem, as he puts it in his own words, that his forte is the ''excavation of buried stories, both in terms of themes and aesthetics".
His latest offering is a tragedy of sorts. Luphawu's father, fleeing Apartheid repression, goes into exile, leaving his son and daughter behind. After a skirmish with the enemy, nothing is heard of this man, Ngangezwe, again.
A whirlwind lifts him up and carries him with it. Then he develops magical powers which become so potent he can cause lighting to strike his enemies. But he becomes stuck there, in a world understood only by those who live within its realm.
However, Luphawu, as the other man remaining in the house, has to be his sister's keeper, fending off their enemies called "suitors" who are hellbent on wreaking havoc in both his and Mesuli's life.
These suitors are referred to as amagongqongqo, some mythical cannibals whose taste for the human flesh cannot be sated. They abound in folklore of traditional storytelling.
Thus Luphawu goes on a quest to find his father Ngangezwe, even if it is only to locate his soul. Separation or the leaving behind of family and children has its own dire challenges. Family bonds are broken and mistrust sets in. Greed and larceny is in constant attendance. Especially as Ngangezwe's daughter Mesuli- the one who wipes off tears – has hordes of suitors to whom greedy uncles want to marry her off. Because in rural society, a maiden is worth their wealth in lobola dowry in the form of cows and oxen.
Luphawu's is a dangerous adventure, fraught with life threatening pitfalls. On her part, Mesuli has to play the role of mother and nurturer to her brother, taking care of his weaknesses and failings. The two have somewhat a magical bond, which sees them through life's many challenges.
But the journey to find answers to his questions has Luphawu negotiating many obstacles along the way. Although he is after his father's soul, it stands to be debated whether Ngangezwe is interested in discussing matters with his son.
Their mother Nomathongo, played by Babalwa Makwetu, who doubles up as music director, is another character altogether. For, according to the storyline, she is a person who refused to die and remains unburied, leaving her spirit lingering at the entrance to the ancestral world, ''in the orientation room of the ancestral world.''
Their home also becomes vulnerable to outside, nefarious forces; constantly coming under attack from dirty spirit mediums. But Luphawu takes all this and other challenges in his stride, in defence of his sister. The two have a somewhat magical bond.
Although Luphawu wants answers from his father's soul, it is not clear if he receives these in the manner that would please him and his sister.
After a two-year hiatus because of Covid-19, it was refreshing to see audiences returning to theatre seats, especially as the Magnet Theatre is an intimate venue.
Thando Doni and Indalo Stofile put up a spirited performance as Luphawu and Mesuli respectively.
Lulamile Bongo Nikani, as the mystical Ngangezwe added depth to the mystery of a person lifted to the netherworld by isivunguvane(whirlwind).